Orange County Staffing News
The Top 8 Best Staffing Agencies 2019 | Orange County, California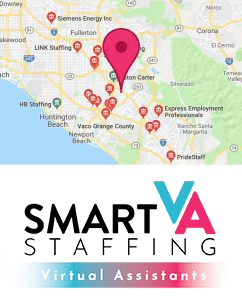 Many companies are struggling with recruitment in Orange County, California. The outlook through 2019 is even worse. We are truly in a labor shortage crisis for skilled people with a strong work ethic. And because of this, there are many good staffing agencies to choose from if you're trying to hire a 1099 contractor. If you are ultimately looking for full W2 employees it's not much easier.
How do you know which of the companies which offer these staffing services is the best?
When choosing between the different staffing options, consider what your organization needs and find the ideal company that offers what you need.
Or, dare to think differently and hire an off-shore virtual assistant instead. A virtual assistant can change your life.
Top 8 Companies to Consider in 2019

The following are some of the top-rated companies in Southern California for recruitment:
Express Employment Professionals
With over 700 offices nationally, Express Employment Professionals are a widely regarded full-service employment agency in California.
The Irvine and Santa Ana offices of Express Employment specialize in finding you professionals in office staffing and the light industry.
Express provides a full range of employment solutions, including full-time, temporary, and part-time contractors in a wide range of commercial positions.
Santa Ana, CA 92704.  (714) 676-5198
Irvine, CA 92618.  (949) 583-7400
Laguna Hills, CA 92653.  (949) 556-3359

PrideStaff
PrideStaff is ranked by Forbes Magazine as one of the top five national providers in the Staffing Industry.
PrideStaff in Irvine also provides a wide range of contractor jobs—professional office, clerical jobs, customer service, manufacturing, and warehouse work.
It's not uncommon to see positions listed for very specific services like sewing machine operation, content writing, or CNC machinists.
Irvine, CA 92612.   (949) 250-1444
Mission Viejo, CA 92692.  (949) 429-3330

Roth Staffing Companies, L.P.
This agency aims to be the very best in their industry, rather than the largest, with specialized business lines for the following categories:
Clerical, customer service, office administrative
Finance and accounting
Technology and engineering
Legal staffing
Contingent workforce solutions
Orange, CA 92868.  (714) 939-8600

Mattson Resources
If you're trying to find contract, contract-to-hire, or direct hire employees, along with payroll and staffing solutions, Mattson may be a good fit for you. They offer the following types of employees:
Office Professionals
Accounting and Finance
Engineering
Information Technology
Healthcare
Skilled Industrial
Technical Manufacturing
Costa Mesa, CA 92626.  (714) 881-1850

Workbridge Associates
If you're in need of employees in technology, Workbridge Associates may be a good fit for your company. They supply IT professionals to many Orange County, California companies. They have a highly rated office in Irvine.
Irvine, CA 92614.  (949) 833-1300

Westways Staffing Services Inc.
If you need an employment agency, which specializes in finding nursing employees for the healthcare industry, Westways is the highest-rated nursing staffing agencies in Orange County.  They help companies add Per Diem nursing or traveling nurses.
Orange, CA 92868.  (714) 712-4150

Robert Half
If you need accounting, finance, technology, marketing/creative, legal, or administrative staff, Robert Half can be helpful.
We recommend their Orange office as they have the highest-rated employees there.
Orange, CA 92868.  (714) 804-5024

WHW
What sets WHW apart is they are a non-profit staffing organization, with a mission to help provide more secure and stable communities, helping employees find the right employer. If it's important to you to work with a company making a positive difference in the community, which offers more training and assistance to residents of Orange County, WHW can be a smart choice.
Irvine, CA 92614.  (949) 631-2333
Find the Best Staffing Agencies in Orange County California
Staffing in Southern California is perhaps the biggest challenge facing companies in our area. One of these agencies may be the best fit for your small business to get the correct employees in key jobs. It's an exciting time for Orange County companies, growing and competing on a global scale, but with the opportunity comes the challenge of hiring. It's a good problem to have and these may be solutions.