Few of the Accounting Staffing Agencies in Orange County Will Keep Your Costs Low
Do you have more accounting work than you can cope with in your Orange County bookkeeping company? You can work longer hours, or hire more staff however, traditional accounting staffing agencies may be too expensive. The cost of living in Southern California is very high. Hiring the right employee is both competitive and costly.
The Right Kind of Staffing Agency for Accounting Business
Smart VA Staffing Agency offers employment services from overseas employees. We will recruit and manage the hiring process for you. Get skilled, qualified dedicated people to help you manage payroll, QuickBooks, and all kinds of repetitive bookkeeping tasks. We can help you find top-notch accounting team members from the Philippines.
These new virtual assistants will work remotely from their home country. You'll be able to communicate easily with them through email, instant messaging, and screen capture video.
In today's highly digitized and paperless workspace, using laborers on the other side of the globe for time-intensive financial work is easier than you'd imagine, and the future of maintaining a competitive American business.
Accountants Need to Make a Profit Too!
When your accountancy business is based on the hours you put in, it can be tough to make a profit. Growing your business is challenging as well because you can only handle so many clients without having to hire more staff. Hiring more staff though is expensive and there goes your profit.
Learn how to break out of this never-ending circle. Grow your client base without increasing costs out of proportion to profits.
Hire from the Philippines
In the Philippines, there are extraordinarily well-educated and hard-working people, English literate, and eager to work for a U.S.-based employer. The pay is more stable and much higher than what they'd find at home.
One of the Few Orange County Staffing Agencies with Detail-Oriented Accounting Candidates You'll Love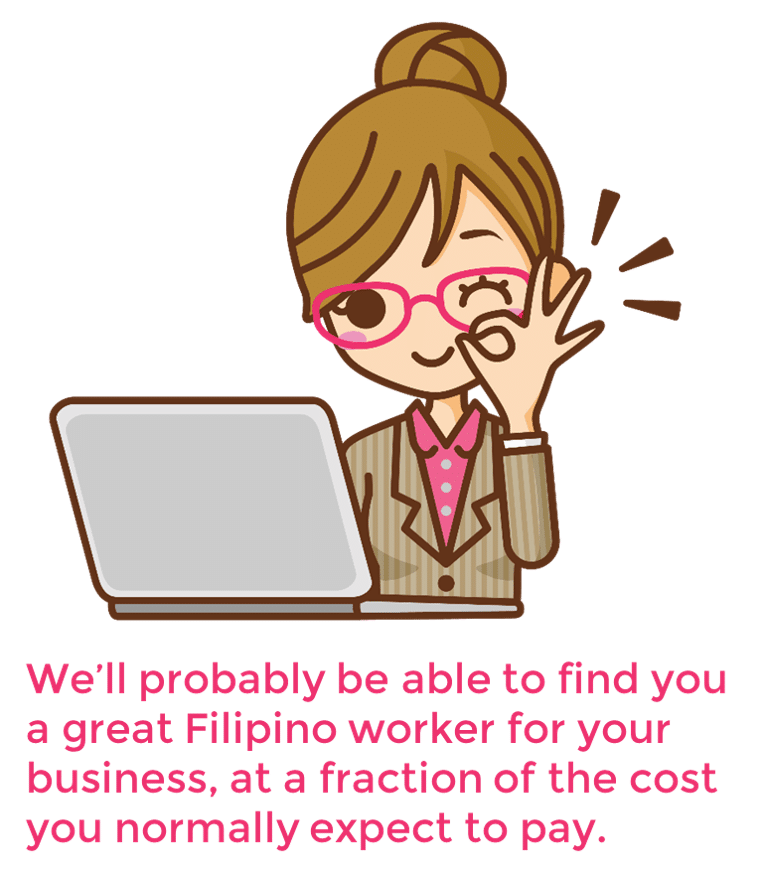 Accounting work is labor-intensive and demands an employee-focused on the particulars of their work. Precise attention to every detail is paramount.
It can be challenging to find an American with a commitment to one's duty and an appreciation for their employment. You can lose a lot of money testing a new hire, finding them unacceptable.
The current labor shortage means you're often interviewing a lot of less-ideal candidates.
We'll find you a great worker for your business at a fraction of the cost.
Activities Your Virtual Accounting Staff Can Manage
Whether you need help with accounts receivable or payable, a new professional associate is ready to start now. You'll discover why we're so unique among staffing agencies in Orange County, California offering accounting services.
They can help with:
Financial record-keeping.
Managing ledgers.
Controlling balance sheets.
Issuing financial statements.
Producing and sending invoices to customers.
Researching and analyzing accounting data.
Prepares asset, liability, and capital account entries.
Compiling & analyzing information.
Document financial transactions.
Entering data in accounting software.
Recommending financial actions.
Summarizing current financial status.
Collecting account information.
Preparing profit and loss statements.
Substantiating financial transactions.
Auditing documents.
Maintains accounting controls.
Recommending policies and procedures.
Coordinating accounting activities.
Answering questions for clients.
Reconciling financial discrepancies.
Securing company information.
Conducting database backups.
Maintaining financial security.
Managing internal controls.
Preparing payments.
Verifying documentation.
Requesting disbursements.
Interpreting accounting policy.
Complying with federal, state, and local legal requirements.
Studying existing and new California legislation.
Enforcing adherence to accounting requirements.
Advising management.
Analyzing accounting trends.
Protecting confidential financial information.
Grow Your Southern California Business Today
Don't let the cost of employment in California get you down. Start growing with new clerical personnel. A highly qualified virtual assistant will cost you less than $1,000 a month. For the cost of a U.S. resident, you can hire an entire accounting staff.
Whether you are a financial firm in the Orange County area or a local business in need of help in your accounting department, we'll help you build your staffing infrastructure, priming your company for significant gains. You'll discover why agencies like ours are invaluable partners in your business's development.

Related:
Financial Staffing Agencies & Recruiting Firms